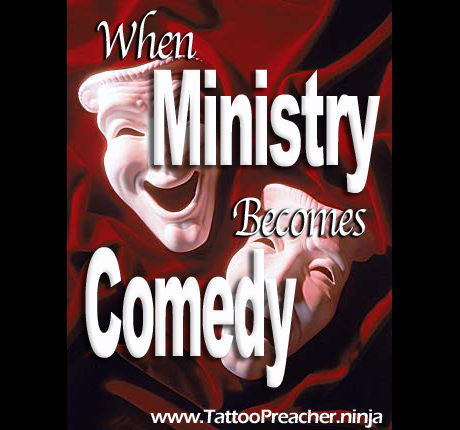 Looking over some of my recent writings, I realized that there has been a LOT of serious content.  In truth, most of my life is strained through a comedy filter… I laugh all the time at the strange stuff that just jumps into my head.  Today, I had a memory that got me laughing again and figured I'd share it with you as well…enjoy!
It was the mid 90's and I was in my first ministry job out of college as a youth pastor and worship leader in a small church in the suburbs of Detroit, Michigan.  There was a man in our church that we will call "Mike".  You wouldn't know it by looking but if you spoke with him it became apparent in short time that Mike, in his late 20's had special needs.  From the stage I would notice every Sunday during our worship services that Mike would very enthusiastically play the air drums stage left in the back row of the sanctuary.  I thought it was cool because he was really into it.  But our pastor always sat on the front row so he was oblivious to what was happening behind him.
One Sunday, we were absent a drummer and this appeared to frustrate the pastor as he abruptly halted worship 30 seconds into the first song as we probably sang about "Rushing Cities and Running on the Walls" or "Dancing like David Danced…" (Either you know or you don't…).
The pastor takes the microphone and explains what was obvious to everyone, that we are without a drummer today (based upon how he danced when he "danced like David danced" I think he really needed the drums to keep his feet going in the same direction at the same time- that's a joke…kinda). Then, this pastor who had zero musical ability, asked if anyone in the room played the drums (which if you don't know is a HUGE ministry faux pas and begging for a disaster!)…Immediately, Mike's hand SHOT UP and the pastor, having no idea what he was doing, called him to the stage.
In a mix of terror and sheer delight I waited…I KNEW what was about to happen and I could not wait to see it play out!  Mike sat on the throne and picked up the sticks looking like he had just won the lottery.  The band gave him the count and in a moment he proceeded to ROCK OUT like Animal from Jim Henson's Muppets!  It was a non-stop unrestrained drum solo consisting of a lot of cymbal crashes and bass kicks with an occasional pop to a tom or snare…as the rest of the band tried to once again "dance like David danced"…
With the way my brain processes, EPIC is the only word I could use to describe the pastors face as he realized what he had done… Imagine knowing that you had just given this professional air drummer the stage he had always dreamed of for his public debut as he practiced relentlessly in the back row for YEARS…and now you had to figure out a way to package him returning to his seat.
He let Mike play for  a minute, thanked him for helping on that song and then had him return to his seat.  Mike was thrilled that he had been given his moment and excitedly sat back down… I, of course, was grinning from ear to ear!  I loved EVERY second of it!  HILARIOUS TENSION for everyone involved!
…and I knew that day that I was God's favorite because He gave me front row seats!  Needless to say, after that the pastor let the worship team make the calls on the musicians.  It was a win for everyone!