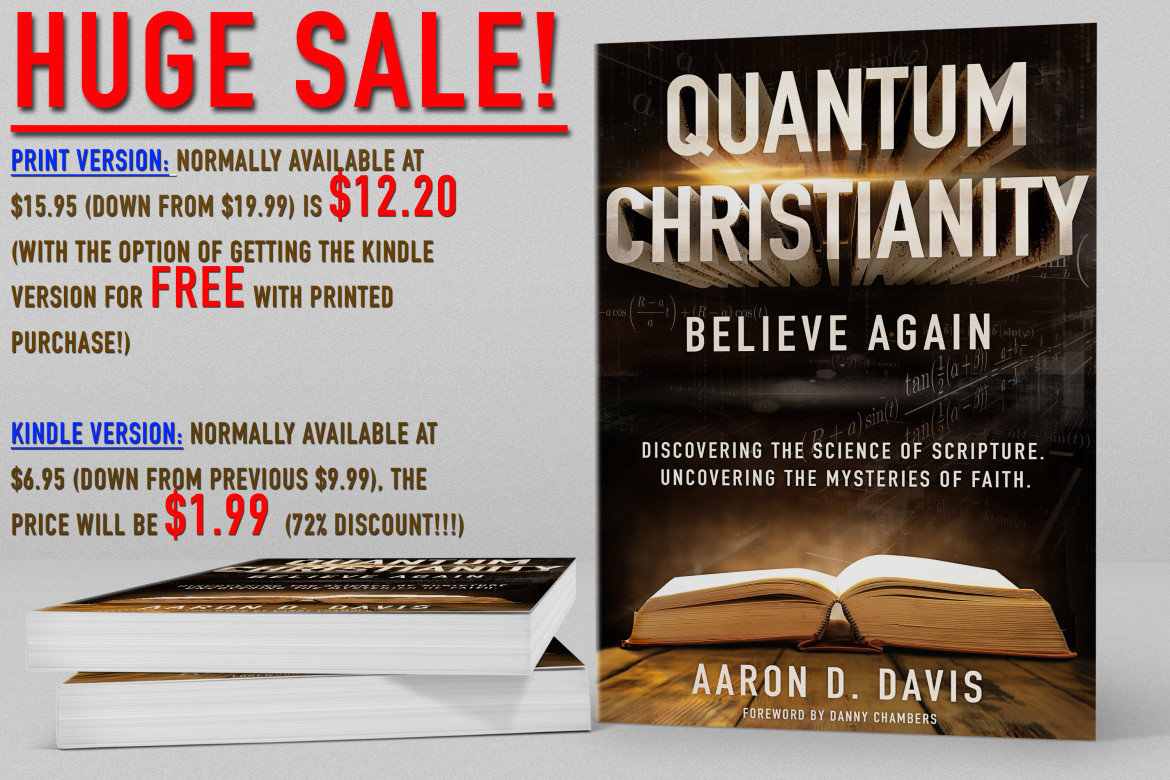 I'm turning 40 on September 25th and to celebrate my birthday and my book release party this weekend, I'm running a 4 day sale on my best selling book, Quantum Christianity: Believe Again!  <— click to order on Amazon
This is a book that EVERYONE needs on their bookshelf!  If you ever have (or ever will) come in contact with someone who is looking for SOLID answers to their difficult questions like: "Why God allows…" or "Why Science and Theology are at odds…" or "How God can be good when evil so prevails in the earth…" or "Why God didn't…" This is the book that they need to read to encourage their faith and strengthen their resolve in a God who loves them more than they could ever know!
"This book is life changing! It presents the information in a way and helps you think of God and Christianity with a whole new perspective. It is easy to read and helps you realize there is so much more to God than we have been taught." – Reader
"This thought provoking book is a must read! The author dives into questions that so many of us have in such a way that will challenge your mind to open up to a bigger, broader perspective. Great read!! You will not want to put this book down!" – Reader
"Such a great book! I highly recommend this. When you have so many unanswered questions, this book will shine some light!" – Reader
"The depth of the book and the ideas presented have consumed my thoughts (and conversations), and have left me pondering and questioning the possibilities and the endless what ifs. This book has helped strengthen my relationship with God, and I feel it has taken my faith to a whole new level. To say that my mind has been blown time and time again while reading, is a vast understatement." –  Reader 
Every college student raised in a Christian home needs to read this book before their faith is challenged by their philosophy professor and doubt rocks their faith.
Every pastor, minister and teacher needs to have the content of this book at their disposal for the times when someone's faith is shattered when their expectation of God doesn't meet their experience.
Quantum Christianity is a book that breaks down difficult to answer questions and concepts into understandable and logical answers that make sense!
Beginning at 12am September 25th until 12am September 29th Quantum Christianity will be available at the following prices!
Print Version: Normally Available at $15.95 (Down from $19.99) is being offered at Amazon's LOWEST price of

$12.20!

 (With the option of getting the Kindle Version for

FREE

with printed purchase!)
Kindle Version: Normally Available at $6.95 (down from previous $9.99), the price will be

$1.99

(72% discount!!!)  
But get the Kindle version QUICKLY at that price while the price lasts because it will incrementally go up during the sale!
This is the absolute
LOWEST

price that this book can sell for!

Thank you all for your love and support!  I appreciate you more than you will ever know!