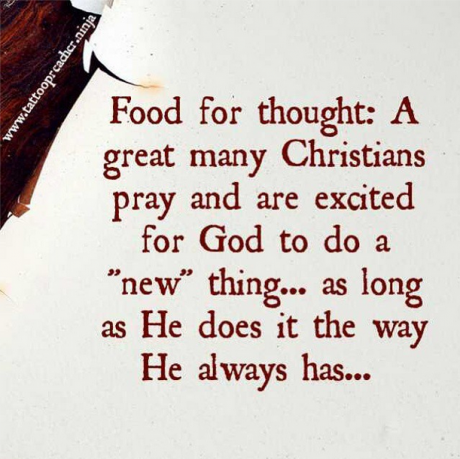 "A great many Christians pray and are excited for God to do a "New Thing" as long as He does it the way He always has…" – Aaron Davis
We all process life & even God through the filter of our exposure to truth. The problem is that everyone's exposure to that truth is different and "limited" at best… As a result something can be completely from God and completely rejected by His people because their exposure limits their understanding.
In Acts 13 Paul addresses how even people who think they know God can experience Him and not even know it!
26 "Fellow children of Abraham and you God-fearing Gentiles, it is to us that this message of salvation has been sent. 27 The people of Jerusalem and their rulers did not recognize Jesus, yet in condemning him they fulfilled the words of the prophets that are read every Sabbath. 28 Though they found no proper ground for a death sentence, they asked Pilate to have him executed. 29 When they had carried out all that was written about him, they took him down from the cross and laid him in a tomb.30 But God raised him from the dead, 31 and for many days he was seen by those who had traveled with him from Galilee to Jerusalem. They are now his witnesses to our people.
They couldn't see the truth because of what they thought they knew of the truth.  The religious who should have known (Priests & parishioners alike) in Jesus' day read scriptures of the coming messiah EVERY Sabbath yet failed to see Him when He stood before them because their experience didn't match their expectation. Their insight to actual truth ended with the edge of the box they placed God within…
I wonder how much of our experience is limited by our own boxes of what we think we know of what God does or does not do…