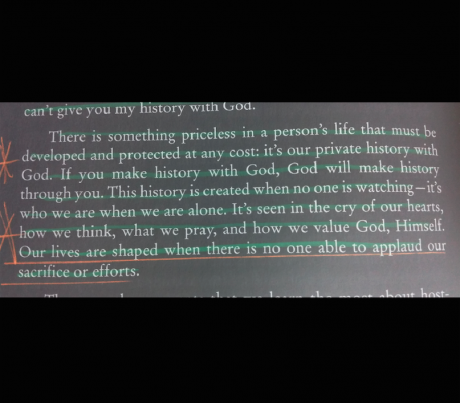 Does it even matter what we do when no one is watching?
Studying today I came across this paragraph and it really resonated with me.
I'm going to be transparent for a moment –  At times in my life I have felt insignificant… Doing things behind the scenes that I knew God noticed but likely will never be known by others.   Kindness shown,  phone calls made,  incredible investments of time and resources –  invisible to all but God and the one on the receiving end…
Sometimes I quietly questioned,  "When will it be my turn…?"  This is not only human nature but it is a Kingdom of God principle to reap what you have sown.   Although I don't struggle anymore with these feelings, the quote above about making history with God ignited in me an excitement.
The Bible says that God rewards publicly what is invested privately.  YOU are a work in progress,  building toward a destiny that only God can fulfill through you.   Don't grow weary in well doing… You WILL reap,  if you don't give up and give out…  Be blessed,  be encouraged –  God sees you…