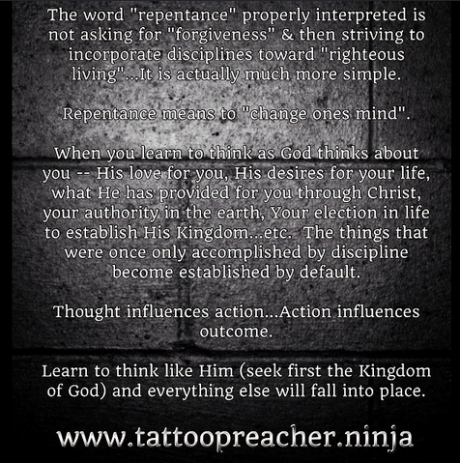 The word "repentance" properly interpreted is not "asking for forgiveness" & then striving to incorporate disciplines toward "righteous living"… It is actually much more simple.
Repentance means to "change ones mind".
When you lear to think as God thinks about you  — His love for you, His desires for your life, what He has provided for you through Christ, your authority in the earth, your election in life to establish His Kingdom…etc.  The things that were once only accomplished by discipline become established by default.
Thought influences action…Action influences outcome.
Learn to think like Him (seek first the Kingdom of God) and everything else will fall into place.
If you think this may influence someone you know, please feel free to share it on your own social networks.
Also, don't forget to subscribe to my blog by clicking the subscribe button at www.TattooPreacher.ninja