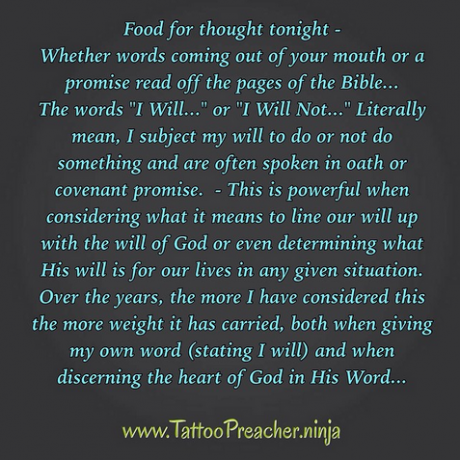 Whether words coming out of your mouth or a promise read off the pages of the Bible… The words "I Will…" or "I Will Not…" Literally mean, I subject my will to do or not do something and are often spoken in oath or covenant promise.
This is powerful when considering what it means to line our will up with the will of God or even determining what His will is for our lives in any given situation. Over the years, the more I have considered this the more weight it has carried, both when giving my own word (stating I will) and when discerning the heart of God in His Word…
If you think this may influence someone you know, please feel free to share it on your own social networks.
Also, don't forget to subscribe to my blog by clicking the subscribe button at www.TattooPreacher.ninja