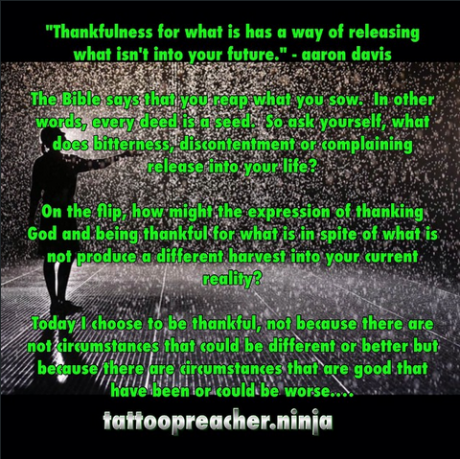 "Thankfulness for what is has a way of releasing what isn't into your future." – Aaron Davis
The Bible says that you reap what you sow.  In other words, every deed is a seed.  So ask yourself, what does bitterness, discontentment or complaining release into your life?
On the flip, how might the expression of thanking God and being thankful for what IS in spite of what is not, produce a different harvest into your current reality?
Today I choose to be thankful, not because there are not circumstances that could be different or better, but because there are circumstances that are good that have been or could be worse…
If you think this may influence someone you know, please feel free to share it on your own social networks.
Also, don't forget to subscribe to my blog by clicking the subscribe button at www.TattooPreacher.ninja