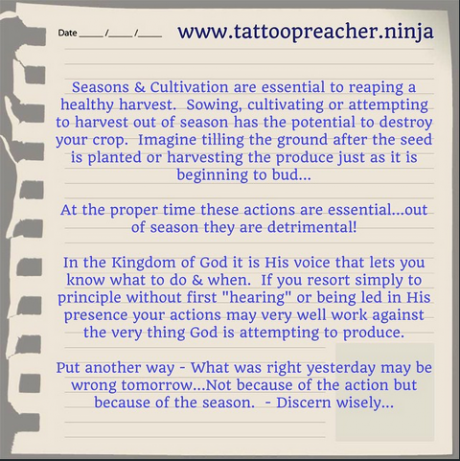 Seasons & Cultivation are essential to reaping a healthy harvest.  Sowing, cultivating or attempting to harvest out of season has the potential to destroy your crop.  Imagine tilling the ground after the seed it planted or harvesting the produce just as it is beginning to bud…
At the proper time, these actions are essential…out of season, they are detrimental!
In the Kingdom of God, it is His voice that lets you know what to do & when.  If you resort simply to principle without first "hearing" or being led in His presence, your actions may very well work against the very thing God is attempting to produce.
Put another way — What was right yesterday may be wrong tomorrow…Not because of the action but because of the season.  – Discern wisely…
If you think this may influence someone you know, please feel free to share it on your own social networks.
Also, don't forget to subscribe to my blog by clicking the subscribe button at www.TattooPreacher.ninja